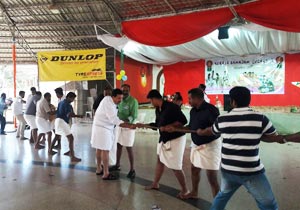 At Tyre Express Uganda, Corporate Social Responsibility (CSR) has been incorporated into our business strategy since inception. As part of our CREDO Tyre Express is committed to serving each of our stakeholders, including our customers, employees and communities. As part of this commitment, we have set CSR goals aimed at improving employee's health and happiness increasing corporate transparency and encouraging collaborative partnerships.
Fostering the most engaged, health-conscious and safe employees in the world by improving the company's culture of health and safety through spots and community engagement and making Tyre Express Uganda a place where its employees are proud and inspired to work;
Advancing community wellness through cultural programmes Partnering with suppliers who embrace sustainability by joining with suppliers who demonstrate a similar commitment to that of the Al Saeedi group.
Some of our CSR Initiatives include:
Sponsoring children's school education through Community Associations.
Actively participating in sports activities organised by different corporates.
Sponsoring religious and social activities for both local and expat communities.
Sponsoring Sports activities.
Facilitating Community Get-togethers and picnics.